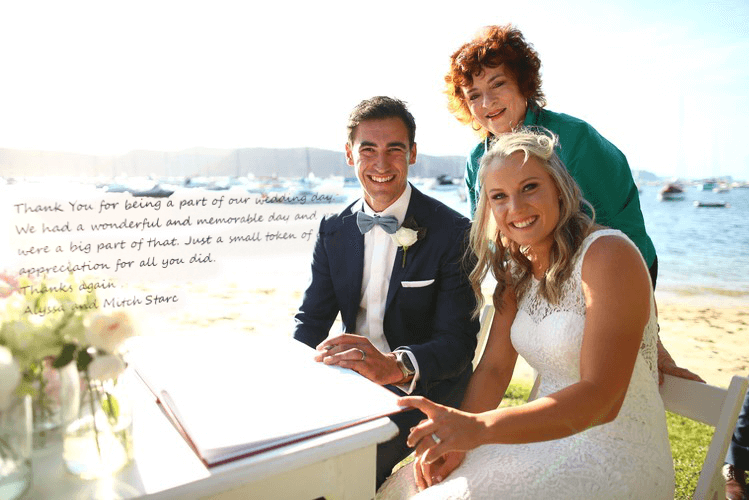 A perfect Sydney day for a beachside wedding ceremony
Australian Cricket stars Alyssa Healy and Mitchell Starc I had the privilege of marrying in mid April 2016 by the sea on a totally glorious day. Flowers arrived recently with these words on a card saying:
"Thank you for being a part of our wedding day. We had a wonderful and memorable day and you were a big part of that. Just a small token of our appreciation for all you did."
~ Alyssa and Mitchell Starc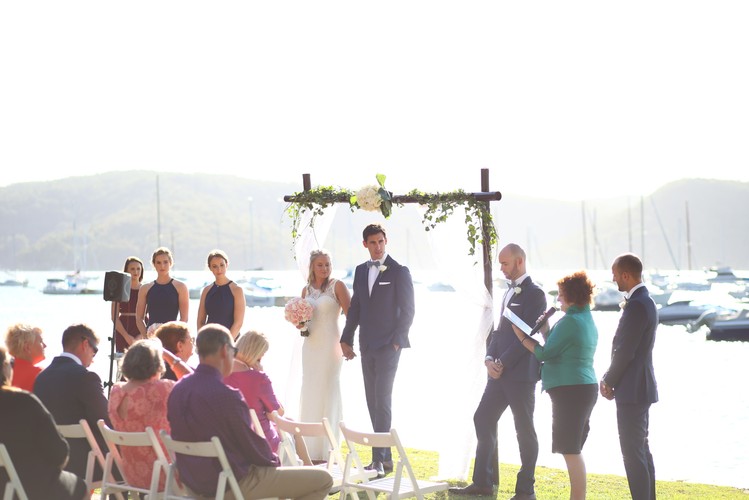 Civil Marriage Celebrant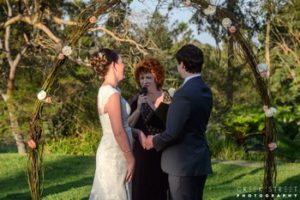 If you're looking for a warm and professional Sydney wedding celebrant to officiate your upcoming wedding ceremony, Christine Beasley is a qualified Civil Marriage Celebrant in Sydney, available to assist as you tie the knot. Located in Epping North, only 19kms from the city of Sydney centre and works Sydney city and surrounding areas.
Christine is a celebrated Soprano and dedicated singing tutor, with years of experience captivating an audience. Recently qualified as a Sydney marriage celebrant, to perform Civil Marriage Ceremonies in Sydney and throughout Australia, Christine offers a relaxed and friendly demeanour, highly professional and organised approach, exceptional communication skills, and genuine love of assisting people in making their wedding ceremony special and memorable.
"It's an absolute honour and privilege to be an integral part of a couple's big day. As a celebrant, I work with each couple closely to create a personalised marriage ceremony that is both personal and meaningful to them.

I pride myself on my ability to put people at ease and feel good about themselves, and there are few days more important than someone's wedding day. By having a relaxed and friendly relationship with each couple I work with, I'm able to create a stress-free ceremony that the bride and groom can enjoy, and remember fondly for many years to come."
Christine holds a Certificate 1V in Celebrancy (CHC42608). Civil Marriage Celebrants in Australia are authorised by the Attorney General's Department in Canberra to perform civil weddings. They are trained to understand associated legal requirements, and are able to complete all the appropriate paperwork correctly to make your marriage valid, legal and binding as required by the Marriage Act 1961. Christine is also a Member of the Australian Federation of Civil Celebrants (The National Association of Professional Celebrants).
---
Working with Christine as your Sydney Wedding Celebrant
When choosing a Sydney marriage celebrant, it's important to work with someone you not only have a good rapport with, but someone professional whom you can trust to guide you through the process and all of the important steps involved.
When you choose Christine Beasley as your Sydney wedding celebrant, you can trust that all aspects of planning your ceremony will be handled professionally and sensitively. While all weddings and civil ceremonies are different, most couples can expect to follow these 5 simple steps:
You'll meet with Christine to fill in a booking form and pay your deposit, and she will provide you with a marriage kit full of useful information to take away.
You will meet with Christine to discuss your ideas for your wedding ceremony. This might include your choice of music, poetry readings, spiritual readings, and your vows. You will also lodge the required paperwork, including your Notice of Intended Marriage.
Christine will create a draft ceremony plan based on your discussion for you to review. You will be able to make any modifications to the ceremony plans up until around a fortnight before your wedding. Christine will then send you your ceremony plan, complete with your modifications, for your final approval.
Christine will meet with you for a ceremony rehearsal at your venue, will walk you through the process of the ceremony, and have you sign any remaining legal paperwork. The balance of the celebrant fee is typically paid at this time.
On the day, Christine will arrive approximately an hour before your ceremony to ensure everything is in place, and will then perform your personalised wedding ceremony. She will then forward all completed legal documentation to the registry office within 14 days.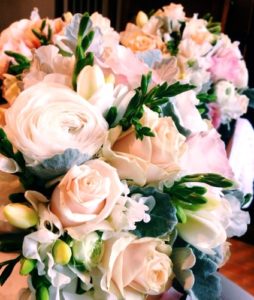 Throughout the course of planning your wedding ceremony, Christine will be available to answer any of your questions, to ensure your wedding or civil ceremony is stress-free and enjoyable.
If you would like to discuss your upcoming ceremony plans or Sydney wedding celebrant requirements with Christine, you can contact her via the contact page or phone Christine on 0400 446 328.
Special thanks to Creek Street Photography for some of the beautiful wedding photos on this page. View more photos at Creek Street Photography
---
Wedding Photos Gallery